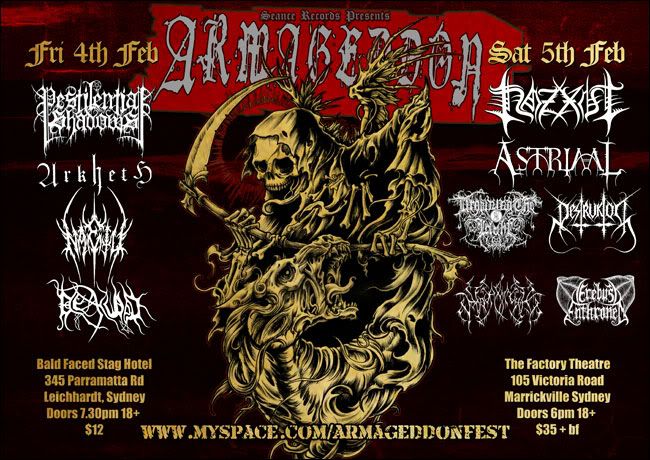 Séance Records Presents
ARMAGEDDON FESTIVAL
2 DARK NIGHTS OF EXTREME BLACK ART
SATURDAY FEB 5TH
The Factory Theatre
NAZXUL (NSW)
ASTRIAAL (QLD)
DROWNING THE LIGHT (NSW)
DESTRUKTOR (MELB)
WARDAEMONIC (PER)
EREBUS ENTHRONED (NSW)
FRIDAY FEB 4TH
The Bald Faced Stag Hotel
SPECIAL GUEST PERFORMANCE
PESTILENTIAL SHADOWS (NSW)
ARKHETH (NSW)
NAETU (PER)
BLEAKWOOD (NSW)
From the ashes of Black Mass festival Armageddon Festival rises like the phoenix to unite Australia's black metal underground and as a testament to the rights of artists to freely express their full artistic views without censorship or opposition.
Australia's black metal & extreme metal forces join once more in the ultimate union of musical black metal art over two huge nights in Sydney. They make no excuses for their ideologies nor the creation of extreme noise but only stand obstinate in the face of those who would challenge their musical freedom.
Friday night will begin the blackening of souls at The Bald Faced Stag Hotel. Pestilential Shadows burning with ire shall reunite for an exclusive live performance on the dawn of their fourth album soon to be unleashed! Another truly rare performance ensuing shall be that of Arkheth who have risen to new heights of Neo Classical, Symphonic Black Metal composition on their recent opus, 'IX & I'. A true gem of the AUBM underground, Arkheth states that this shall be their last show for all eternity.
Naetu from Perth join the libations with their dark misanthropy alongside Sydney's Bleakwood, who featuring members of Ironwood will be making their live debut which is not to be missed!
Friday Night celebrations will be closed by an exclusive & secret guest performance which shall only be revealed to those eyes who bear witness to what shall come.
Once your soul and liver has been suitably blackened by Friday night revelries prepare for the second night of artistic & nihilistic endeavor at The Factory Theatre for a huge night of sonic destruction.
This will be Nazxul's only live Australian performance for 2011 before their disappearance into the shadows to record their new opus & follow up to 2009's, 'Iconoclast' album.
They will be joined by Astriaal returning to Sydney after a seven year hiatus with their new album, 'Anatomy of the Infinite' in their only Sydney performance for 2011. Drowning The Light, one of Australia's most enigmatic & intriguing Black Metal artists will also be performing their only Australian show for 2011.
Destruktor from Melbourne defiantly return to Sydney after a long absence to strike hard with their crushing displays of aural speed & brutality! The whirlwind of their destruction will not strike again soon as this is their only Sydney show for 2011.
The devastatingly heavy Wardaemonic will once again be bridging the great divide of distance and dragging you into their black void along side Sydney's Erebus Enthroned to stand strong in the face of adversity.
Never before has there been such a gathering of Australian Black Metal, united they stand because Australian extreme music WILL NOT BE SILENCED by the voices of the few! We stand defiant and rally in the true spirit of metal brother & sisterhood against those who would dictate against our freedoms & love of extreme metal. Join us to support some of Australia's finest metal acts as they converge upon Sydney to share their full artistic vision with the privileged few….
SATURDAY FEBURARY 5TH 2011
The Factory Theatre,
105 Victoria Road, Marrickville, Sydney.
$35 + Booking Fee
Doors – To be Announced
18+ Only
STALLS – GIVE AWAYS – DJS
Be not discouraged – only the darkest of sounds played from eve 'til dawn.
Between musical appreciation peruse the wares available from the numerous stalls. Vinyl, Cds, Shirts & more.
The Factory Theatre is only a short bus or taxi ride from the heart of Newtown in Sydney.
Tickets available From – \
http://www.factorytheatre.com.au
(Search Armageddon)
Factory Theatre Box Office - Phone (02) 9550 3666
Facebook Event Page -
http://www.facebook.com/home.php?#!/eve ... 6448482846
FRIDAY FEBRUARY 4TH 2011
The Bald Faced Stag Hotel
345 Parramatta Rd, Leichhardt
$12 at the gates of hell!
Doors - 7.30pm
18+ Only
Facebook Event Page -
http://www.facebook.com/event.php?eid=1 ... 443&ref=mf
BAND LINKS
NAZXUL -
http://www.myspace.com/nazxul
ASTRIAAL -
http://www.myspace.com/astriaal1
DROWNING THE LIGHT –
http://www.myspace.com/drowningthelight
DESTRUKTOR -
http://www.myspace.com/666destruktor
WARDAEMONIC -
http://www.myspace.com/wardaemonic
EREBUS ENTHRONED -
http://www.myspace.com/erebusenthroned
PESTILENTIAL SHADOWS -
http://www.myspace.com/pestilentialshadows
ARKHETH -
http://www.myspace.com/arkheth
NAETU -
http://www.myspace.com/naetudominion
BLEAKWOOD -
http://www.myspace.com/bleakwood