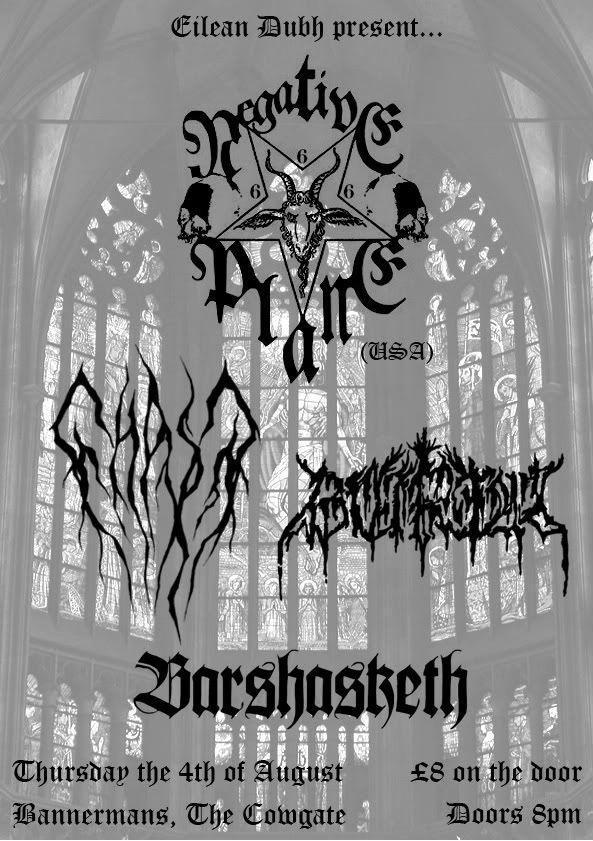 Negative Plane are playing a handful of gigs around Europe in support of
their new album "Stained Glass Revelations". Needless to say, it's
absolutely essential listening and ranks as the best thing I've heard
thus far in 2011. This is one of only three gigs they are playing in
these Isles - the others being Dublin and London- and their first ever
time in Scotland.
You can hear a track from Stained Glass Revelations here:
http://www.invisibleoranges.com/2011/01 ... iled-bone/
From Aquarius records...
"Doomy, dramatic, delirious black metal that's so thick with true old
school feeling that after a few spins, the only thing you can follow it
with are crackly vinyls by '80s and early '90s underground overlords
like Bathory, Venom, Celtic Frost, Possessed, and Mayhem. Yet their
artistry is directed down their own path, not that of retro nostalgia,
even if they stir up the same Satanic vibrations as those ancient ones."
Main support comes from Ghast, whose lumbering mix of black metal and
doom absolutely blew away the crowd on their previous trip to Edinburgh.
http://www.myspace.com/souldustgrave
Burial are no strangers to Edinburgh, and never fail to impress with
their utterly intense brand of blackened death metal.
http://www.myspace.com/burialtheband
Finally, we have Barshasketh, originally from New Zealand with a new
live line-up in Scotland. Old-school atmospheric black metal.
http://www.myspace.com/barshasketh
Tickets £8
Doors 8pm - first band on 8.10pm sharp
http://www.last.fm/event/1901955+Negative+Plane
http://www.facebook.com/event.php?eid=105791059507284