GBH Events Presents:
Wednesday 28th September
Scottish EXCLUSIVE @ Studio 24, Edinburgh
***THIS IS 14+ GIG!***
Facebook Event Page:
http://www.facebook.com/event.php?eid=137720216306217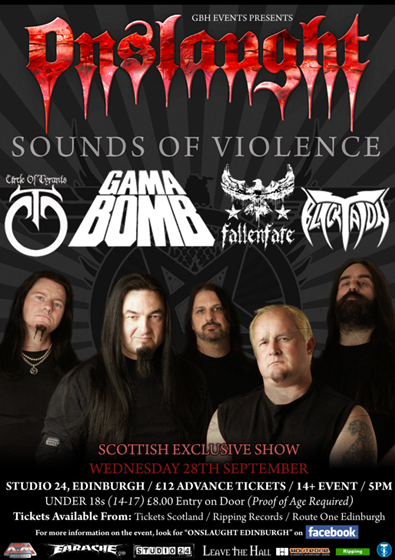 One of the Greatest Titans of British Thrash Metal, Bristol based
ONSLAUGHT
finally hit Edinburgh with their peace killing, god spitting, war machine.
Long time Thrash veterans, these guys have been at the game since the mid 80s. With a hugely impressive discography, you'd think it'd be tough to continue releasing monumental classics, but touring relentlessly across the globe, trampling almost every massive festival you can think of to the ground with their new album SOUNDS OF VIOLENCE, they prove once more they're simply the dogs-fucking-baws. Seriously unmissable.
Joining them on tour is Irish Speed-Thrash Collective
GAMA BOMB
. Edinburgh haven't seen these lads yet up close and personal for a while now, so this ought to be insane. Having recently ripped apart the stages of Hellfest & Tuska, as well as toured with monsters Exodus, Overkill, Forbidden & DRI, to say they know what they're doing, is a massive understatement.
-------------------
ONSLAUGHT
(Bristol, ENG) AFM Records
:
http://www.facebook.com/onslaught
​uk
http://www.myspace.com/onslaughtu
​k
GAMA BOMB
(Dublin, IRE) Earache Records:
http://www.facebook.com/gamabomb
http://www.myspace.com/gamabomb
FALLEN FATE
(North East, ENG):
http://www.facebook.com/fallenfat
​eband
With support from:
Circle Of Tyrants
(Glasgow, SCO):
http://www.facebook.com/pages/Cir
​cle-of-Tyrants/12377382432​5607
Black Talon
(Edinburgh, SCO):
http://www.facebook.com/blacktalo
​nthrash
--------------------
£12 Advance Tickets - Available via the following means:
Ticket Scotland Stores
(Edinburgh & Glasgow)
Tickets Scotland Website:
http://www.tickets-scotlan
​d.com/
Ripping Records Edinburgh:
http://www.rippingrecords
.​com/
And in person at Route One Edinburgh, 29 Cockburn Street.
You can also order tickets via Paypal here:
http://gbheventsedinburgh
.​bigcartel.com/
Tickets can also be collected from myself via arrangement:
mikeguitar@hotmail.co.uk
Under 18s (Aged 14-17) get reduced entry @ £8.00 per person which is payable on the door. Please note that
PROOF OF AGE IS REQUIRED.
Door Time 5PM
http://www.facebook.com/gbhevents