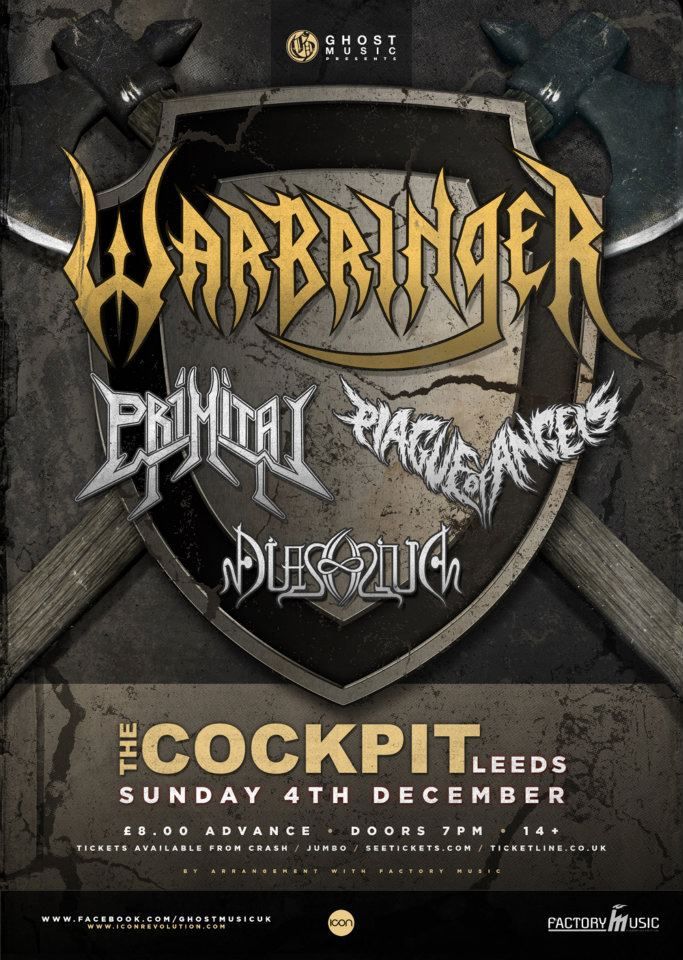 http://www.facebook.com/event.php?eid=251396818238430
If you want tickets for this, then we (Diascorium) are selling them for £6 (from us personally), or £7 via paypal and to include postage. Drop an email to
diascorium@gmail.com
and we'll sort it out with you. We're playing the Fenton on the 26th November and will have them with us then too.
WARBRINGER - High speed American thrash on Century Media, toured the world, played all the festivals.
http://www.facebook.com/Warbringermusic
http://www.centurymedia.com/
PRIMITAI - UK thrashers on Earache
http://www.facebook.com/primitai
PLAGUE OF ANGELS - Leeds based nu/death/core
http://www.facebook.com/PlagueofAngels
DIASCORIUM - Leeds folks playing a big mix of death / black / tech / extreme metal with hints of thrash, grind, doom and slam...
(members of Narcosis, Reth, Tangaroa, Morkret, A Forest Of Stars, Revokation...), played Damnation Festival 2010 and had tons of big supports, most recently at this venue with 1349!
http://www.facebook.com/diascorium
http://www.diascorium.webs.com
Doors 7pm - Tickets normally £8 Advance but £6 from DIASCORIUM - Ages 14+