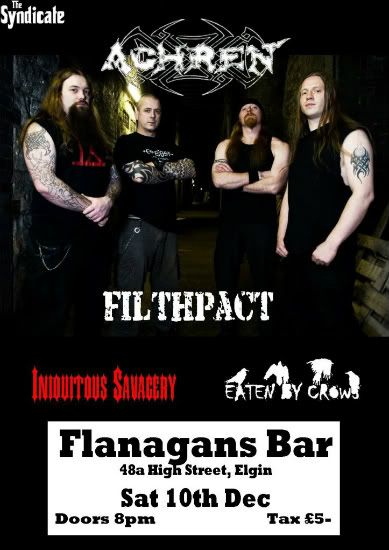 Achren
from Glasgow raise their Blood Soaked Banner in Elgin in a culmination of a great year for them with an Album and Dvd release along with prestigious slots at Metal Camp in the Czech Republic, the Wacken Festival, Germany and the UK's Premier Metalfest Bloodstock.
Aberdeens
Filthpact
are no strangers to these parts with their Crust Punk attack, formed in 2004 and split up in 2007, this show will celebrate a year together after reforming late last year.
Since reforming Filthpact have toured Eire along with various short Scottish tours and 2012 sees a tour of Finland in january.
Eaten by Crows
are a new Punk band from Aberdeen and this will be their debut gig.
Opening up are
Iniquitous Savagery
which feature former members of Lossiemouths Cryptic Hate.
They have recently finished recording their first demo and this will be their debut show.
More info can be found at
THE SYNDICATE
-
http://www.facebook.com/TheSyndicate2008
Achren
-
http://www.facebook.com/achrenmetal
Filthpact
-
http://www.facebook.com/Filthpact
Eaten by Crows
-
http://www.facebook.com/pages/EATEN-BY- ... 3224007264