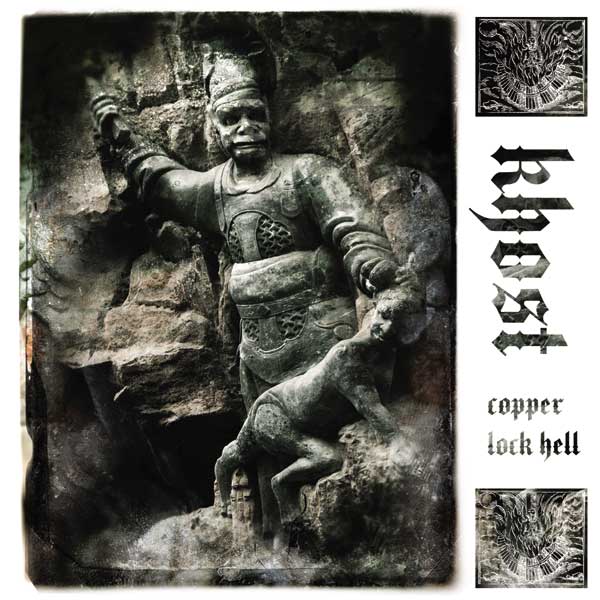 KHOST 'COPPER LOCK HELL' CD / T-SHIRT
Khost supported GODFLESH on their UK tour in December.
With their debut "Copper Lock Hell", Birmingham-based duo Khost provide an intense wall of sound. Drop-tuned, monolithic structures of super-heavy chords, interspersed with chilling, pagan soundscapes made for worship at the altar of extreme sludge-industrial-doom. Found sounds, glitches, esoteric / gnostic ideas form the backbone of this hefty release. The whole experience is tense and unsettling, and is a solid primer for their live shows.
Khost is Andy Swan (
Iroha, Final, Atrocity Exhibition
), who is joined on live shows by Damian Bennett (
Carthage, Deathless
).
Guests:
Tunnels Of Ah
, Kevin Laska (
Novatron, Transitional
), Eugene Robinson (
Oxbow
), Jo Quail (
SonVer
).
Out Now
_______________________________________________________
Over 'n out
Jo / COLD SPRING
http://www.coldspring.co.uk
Out now:

MERZBOW 'Nezumimochi' Picture Disc LP & CD
LAIBACH 'Neu Konservatiw' Picture Disc LP
SKULLFLOWER 'Draconis' 2CD
KHOST 'Copper Lock Hell' CD / T-Shirt
VA 'Treatment Of The Dead' CD Sampler
COIL / NINE INCH NAILS 'Recoiled' CD / LP / Picture Disc
TREPANERINGSRITUALEN 'Perfection & Permanence' CD / LP / T-Shirt
BURIAL HEX 'In Psychic Defense' CD
SHIFT 'Altamont Rising' CD
DEADWOOD 'Sheolic' CD